Product Description
Introduction
SHINE Magnetic chamfer strips NSM-25C and trapezium magnetic strips by SHINE have been used under difficult conditions in the precast concrete industry.
Magnetic steel chamfer strips are designed to work with steel beds or steel faceplates and bulkheads that can be mounted to most types of precast rail-frame systems on the market.
Choose the single-sided magnetized option if attaching to one steel surface at a time, such as a steel table or steel faceplate. The double-sided magnetized option provides an extremely secure corner attachment when you`re working with two adjoining sections of steel.
SHINE Magnetic chamfer strips can be manufactured in nearly every geometry due to a combination of rubber moulds with magnet strips.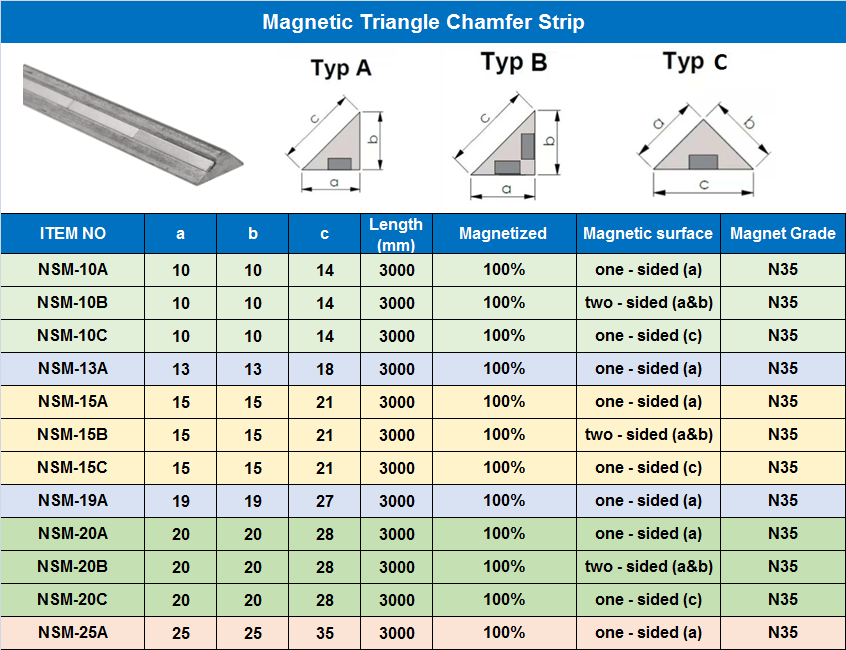 Benifit
- Rare earth magnets provide Unbeatable adhesive force-to-weight ratio.
- Standard application temperature available on request up to 80°C.
- 3 meter maximum length of magnetic chamfer can be made.
- can be positioned firmly and accurately anywhere on the platform.
- Low cost, high usage rate.
Application
- Magnet Chamfer for pallet circulation systems, steel tables and tilting tables.
- Magnet Chamfer for walls, beams, piles, floor slabs, and other concrete products.